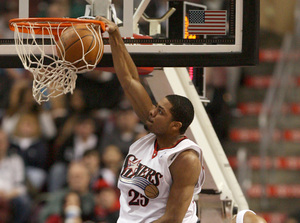 So the Sixers are just gonna keep racing towards the basket until somebody stops them. Nobody has been able to do that in the last 3 games. They had their track shoes on again last nite in their win over the Clippers (101-80). Harvey Pollack is still checking to determine the last time a team has post the same final score (101) in 3 consecutive games and win.
Phil Jasner wrote earlier this week the Sixers recent youth movement and up tempo play is by design. Ed Stefanski's design. Ed wants to evaluate what he's got in preparation for the off-season. Sorry to say you're a little late Ed. I knew the Sixers should have been running from day 1. With no shooters and no low post player ... what else is there?
The article goes on to say he's looking for someone to step up as a 3 point shooter. Save yourself some time Ed. Start looking now. You traded the only legit 3 point shooter. Making it an imperative to replace him in the off season.
In the meantime ... run Sixers run! The consensus is they could go 4-1 on the 5 game home stand. Dallas and Memphis remain. Who knows ... the basketball gods could play a trick on us. Dallas plays the Nets today and travel to Philly for the last game of a 4 game road trip. The Sixers could keep on running and catch them napping. But it would be just our luck they could turn around and lose to the Grizzles.
Nah ... that couldn't happen ... could it?
Dallas on Monday