The Sixers were ballin' last nite. Extending their win streak to 4 during this 5 game home stand. I half heartedly expected them to win as I hustled to my seat. The sparse crowd shuffled in. Many in attendance were there to see Dirk Nowitzki, a seven-time all-star. What I did not expect was the way they went about winning.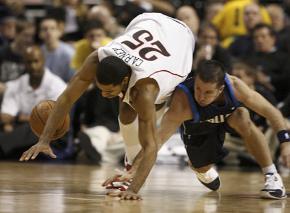 They came out pushing the ball as they have been in recent games. But the Mavs matched their play with outstanding shooting. The Mavs lead the 1st period 25-23. The up temp game deteriorated a bit and the Sixers fell behind. That meant it was "Miller Time". Andre Miller forced the issue and closed the gap. Miller hit an improbable 3 to close out the half. The Sixers were only down by 3.
In the second half the Sixers displayed the most intense defense this team has ever .... repeat EVER ... played this season. Reggie Evans was doing his thing. Bumpin', pushin' and grabbin'. But other guys stepped up. Guys were closing out on shooters with a vengeance. There were hands in shooters faces. Tipped balls. Players lunging to the floor. This was serious blue color basketball. The kind of ball any Philly fan should be proud of.
In short, they played in awesome game. Now they need beat the Grizzles here on Wednesday to make this game really meaning full. Which brings us back to the argument as to wether they should be trying to win games or tank. I will repeat my thoughts from an earlier comment.
"It's hard not to be in the playoff hunt, because the conference is so loaded with bottom feeders. Which means the 8th seed (and maybe the 7th) could have a losing record. I don't see any point in that. I don't like to say 'tank' games, but I would rather see them win/lose with the young players on the floor. Let the chips fall where they may."
After witnessing last nite's performance. I don't think you could get these guys to tank if you wanted to.