Myself and 11 other people watched the Sixers blow out the Bobcats Wednesday nite. Okay the official attendance was
9,317, but the real number was more like
6,800 fans. Trust me ... I was there. The Bobcat's game was a schedule opportunity game. Bad team ... on the back side of a back-to-back ... and blown out the nite before. The Sixers need to win as many "schedule opportunities" they can and make strides early to take advantage of a favorable home schedule.
But with no scheduled national broadcasts there will be few eye balls focused on the Sixers from afar. And we all know the Sixers are 4th in popularity in major Philly sports. So you really have to wonder ... If the Sixers win ... will anybody be watching?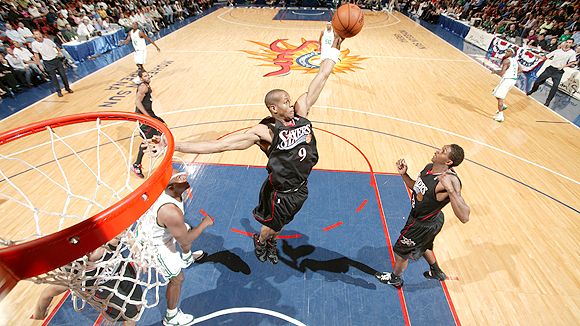 The Nets spoiled the Sixers home opener Saturday nite. The official attendance was 19,706, but it was not a full house. And what made a bad situation worse was all the friggin' Nets fans at the game. They were all over the place. I'm sure the Saturday game made it attractive for the rats to cross the river. There were more than a few chants of "Korver Suxs" that rang out. Once when K wasn't on the floor. Remember these were Nets fans. Cheering for a team that plays the NBA's most boring brand of basketball.
The Sixers did get into the W column early. Winning their 2nd regular season game versus the Bulls Friday nite. But nobody saw it. At least I couldn't find it on TV. And I didn't see any replays on sportscenter (not even a ticker update). The Bulls game was a another example of the kind of opportunity game the Sixers need to take advantage of.
So the Sixers are .500 after 4 games. I'm sure many would have expected a slow O-fer start. And for some the Sixers could be 0-4 for all they know. Nobody's watchin'.