They Sixers fall to the Magic in Game 5, 91-78. A game in which they lost all 4 quarters. A game that was pretty ugly in a number of respects.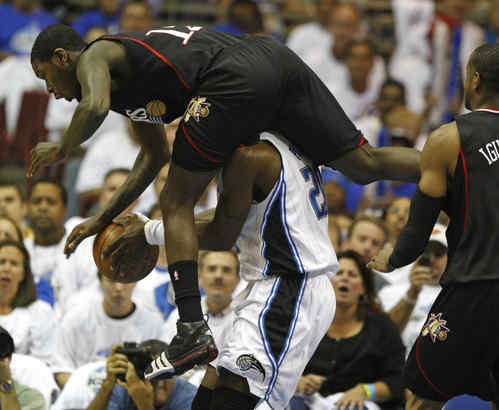 Least of all was the wicked elbows Howard was dishing out. I'm not sure what to say about the elbow he threw at Sammy in the 1st quarter, but the one he clocked his own teammate (Courtney Lee) with was brutal. Howard knocked him out and had no idea what he had done.
Scary talent is one thing. Scary like somebody could get hurt is another. The loss of Lee could really cost the Magic. It was clear that JJ Redic and Michael Petrus where out of their element as backups.
But Howard was the difference last nite. It was about him on defense. He made the Sixers timid. May the elbows where not a mistake.
Anyway you might count the Sixers out in game 6. But the attrition the Magic has suffered may change the outcome. The Sixers need to get back on that horse and find another win in this series.