It was a lite crowd Friday nite as the Sixers hooked up with Larry Brown's Charlotte Bobcats. In their prior meeting this season the shorthanded Bobcats  (Richardson was injured) shot better than 50% from the 3 point line (8-14). The Sixers lost the game in Charlotte 84-93 primarily because of the disparity in 3 point shooting (the Sixers where 3-16) ... or perhaps it's a disparity in 3 point defense.
In Friday's tilt the Bobcats started out hot from the 3 point line scorching the Sixers for 5 3's' early in the 1st half. But they finished the game 5-16. They only committed 15 turn-overs for the game, but they came in bunches in the 3rd quarter when the Sixers took control of the game. The Sixers outscored them 20-4 on fastbreaks and swatted 7 blocks (Sammy had 4 and Speights had 2).
Such is the plight of losing teams. I'm glad the Sixers did not take the opportunity to play down to their level, again.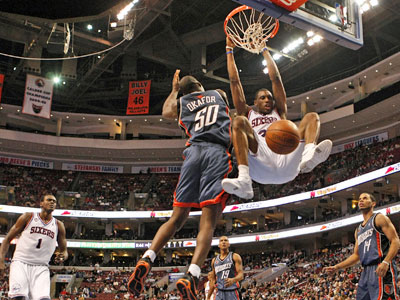 Thad Young went off in the third period! Scoring 9 of his 15 points in the period. That's something I'd like to see more of. Andre Miller is great, but the Sixers offense is stale if he's the one posting up and taking most of the shots. They Sixers started that game posting Miller up against the Bobcats Sean Singletary. But in the third period they isolated Thad in the post. I think it's time to asked Young to do more in the offense. He capable. Why not?
Let's keep the streak going against Atlanta on the road Sunday afternoon.