Sixers win, Sixers win, Sixers win. Thank goodness that's over. I was very confident they would. The Warriors are a small team, that does not rebound well, does not play defense, and on the last game of a 5 game cross country road trip. The stars were in alignment.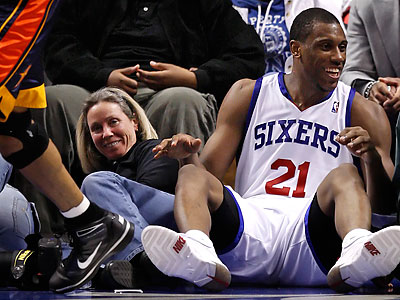 The game was a perfect setup for Thaddeus Young. He was unstoppable in the 1st half. He had that spin move of his going and I am certain that Radmanovic never figured out that Thad is left handed.
Jordon started Jrue Holiday over E.B., and the rookie looked good. You might attribute some of that to the opponent, but Monta Ellis is no joke. Holiday had him on lock down. His height and quickness at the guard position was a welcome change.
Jordan after then win said the change was mostly about the small line-up. But rotation has been a questions mark all season. How do you keep Holiday out of the line-up when Williams gets back. No way you can play Iverson and Williams at the same time. They are just too small. Yea, they give you offense, but they would be exploited defensively. Then it ripples through the line-up. You can't sit Iggy. So you move 'em to forward. Thaddeus' play still warrants a start (particularly if he continues to rebound in the double digits). Sammy's the 5. So Brand is out (backing up Sammy).
And Brand is not happy. Brand said: "When you look around at other teams, yeah. No disrespect, but Mikki Moore, he gets to start and I don't.". His minutes will wither again when Mo Speights gets back. Speights is ahead of schedule. Jordon has some decisions to make. Mo does not have to start, but he needs minutes. Who's minutes? Brands minutes? Sammy's minutes?