I saw this last nite on TV sports. Tony D has declined consideration for the Sixers head coaching job. So Tony's Out!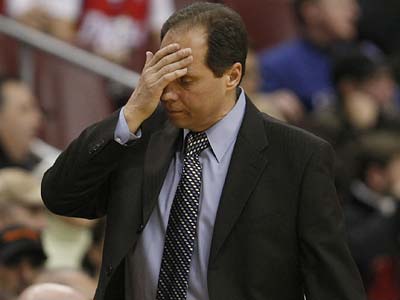 This is not a surprise to me. Tony is a great basketball guy, a local guy, you know how Philly says it … he's one of us. But he does not have the temperament or drive for the NBA coaching grind. He's more suited to be GM than head coach. I'm glad to see he will return to his prior position. He has been a great asset and we will need him to keep the draft in focus while the GM Stefanski cranks up the coaching carousel.
The front runners for Sixers new head coach; former Sixers star Doug Collins, former Wizards head coach Eddie Jordon, Former Dallas Mavericks head coach Avery Johnson, and former Houston head coach Jeff Van Gundy.
Collins has the Sixers family thing going and Eddie Jordon is reportedly close with GM Ed Stefanski. But my choice would be Avery Johnson. I have been eying Johnson since he we let go for little reason this year. He's a fiery guy that knows basketball and will get in your grill when needed.
Come on Eddie! Let's make quick work of this decision. You got a lot of player personnel work to do.