So we are on the Sixers end of the court with 7 somethin' seconds left in the game. The crowd was manic … the roller coaster of emotions was draining. In the 3rd period we're up by 17 and the next thing you know it's a 2 point game. I tried to calm my self … we had only lost the 3 quarter by 8 … we know they were gonna make a run. We just need to respond.
None of that helped. The doom and gloom and …. here we go agaiin started to creep into our consciousness. Orlando's 3's started falling. Somehow superman kept making free throws. But we channeled those emotions into cheering louder.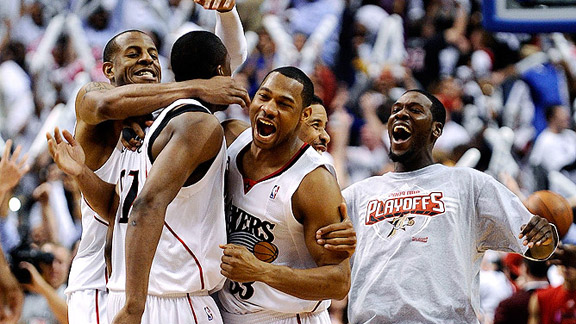 When Miller inbounded the ball to Thaddeus we were all on our feet. He dribbles into traffic. From our angle it looked like he was clobbered by the Magic and walked with the ball (later we learned the ball was knocked to the floor), and then there was that flash. That turn around move that has become a signature move for Thaddeus. It is so quick that the ball has left his hands before you realize what is happening.
He scored! I couldn't believe it. That game was  over. Thaddeus had a sub-par nite, but when it counted … instincts took over. He hit his 1st playoff game winner.
I'm still riding the high … trying to come down to earth. As hard as this game was the next will be even harder. It occurred to me that we had been here before also. Up 2-1 only to be crushed in the second half of game 4. Dare I say tomorrow will be different?