It's playoff time baby … time for the Sixers to shock the world. They repeat last year's feat of stealing game 1 on the road. If you tuned in to watch the 2nd or 3rd periods you may have turned off the TV.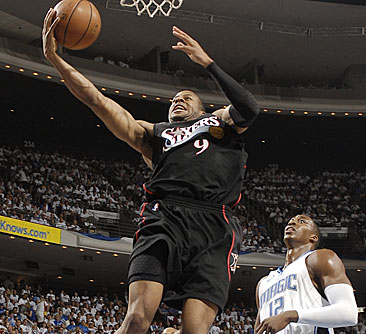 The played really well in the 1st period to lead 27-25. But the ghost came back to smother them offensively and they scored only 19 points in each of the 2nd and 3rd periods. As they entered the final period … down by 14 … I'm wondering to myself how are they going to out score Orlando by 14.
Answer … 76ers basketball. They dug in and turned up the defense and ran the floor. Donyell Marshall came in to add the firepower needed to close the gap with 11 fourth period points. Then Iggy showed a national TV audience that he can be the man. After missing two freebies with the Sixers down 95-96 it looked like Andre may have been the goat. But he came back and hit the game winner … a very tough shot I might add.
For Orlando, Howard was a monster in the game with (31 points and 16 rebounds) and the rookie Courtney Lee had a phenomenal debut (18 points). But Lee disappeared in the money period as did the rest of the Magic. They lacked playoff intensity. Something the Sixers may have picked up form the playoffs last year.
But we have been here before. Winning the opening game. As the cliché goes … a playoffs series doesn't start until someone loses at home. Well … we got a series. There will be a lot of adjustments made between tonight and next Wednesday's game.
Now the Sixers need to get greedy.