One of the downsides of being at the game (at least from were I sit) is you don't get the injury report during the game. So you have to understand my concern when  Dalembert hobbled off the court with the help of several teammates just before the end of the 1st half. The Sixers win over the hapless Wizards was neither unexpected nor spectacular.
The fact that we are concerned about losing Sammy is a bit of a turnaround. If this were November the concern would not be the same. But Sammy was coming off his best performance of the season  (a victory over Yao Ming and the Rockets). And the Sixers (knock on wood) were healthy. A key ingredient for any successful season. The Wizards are a testament to how far a team can fall when the injury bug hits.
So yes ... I was concerned about Sammy. It's just a sprained ankle. Which is a day to day kinda thing.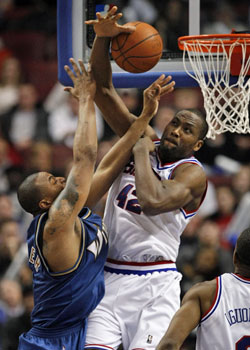 But with Sammy done for the day,  I did get a chance to see E.B. at the center spot. I have to say that he is a very good defender. Very active on the boards and blocking shot (4 BLKS). I like the idea of Brand playing the 5 when the 76ers go small.
But I don't know if there is much you can take away from the ragged win over the Wizards. Best to say ... a win is a win. The first of 7 straight home games. It'd be nice to go 5-2 over this stretch and clear the .500 bar for good.
Get well soon Sammy.