Sixers knock off Rockets - I was in attendance last nite as the Sixers got the fastbreak going to run the Rockets out of the gym. The final  score was 104-96.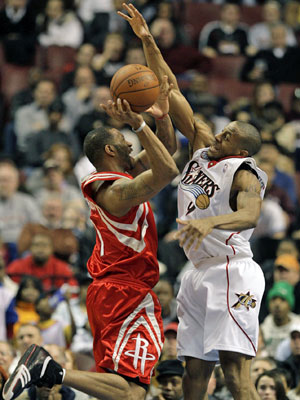 Iggy scored 20+ points in his fourth straight game. During the game Iggy drives into the lane, falls and tosses up an awkward shot, but is fouled.
"Give back the Money!"
Someone jeered from the crowd. Igoudala lifts himself off the floor and walks to the line. He clanks his first attempt off the rim.
"Give back the Money!"
The heckler shouted. Drawing more chuckles from the crowd. Iggy steps to the line again and misses the second free throw attempt as well.
"Give back the Money!"
The heckler responded. Echoing a sentiment among many Philly fans that Andre Igoudala is overpaid for what he's demonstrated so far this season. I'm a Igoudala fan, but I have to admit that I share some of that sentiment.
Iggy's posted some of the most un-impressive 20+ scoring games I can remember. All I remember is that 18 foot jumper with an exaggerated motion that he consistently clanks off the rim. He manages to score 20+ on put backs and transition buckets, but in the half court he gets stuck taking that 18 footer that nobody respects. So for many fans ... Andre can't do it in the clutch. The turn-over under pressure don't help either .... the Denver game come to mind.
But any kind of win for my Sixers is welcome. I'd rather Iggy score 20+ on 20 shots that not at all.