Iggy had 20 points in the 1st half. That includes another acrobatic 3 point shot at the buzzer to end the half and help the Sixers to a 2 point lead. He finished the game with 28. But clearly Dos Andre's just put the team on their back on the second nite of back to back games and carried the team for a win.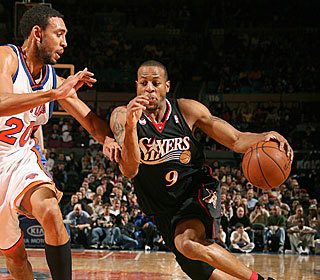 The Sixers managed only a few faskbreak points in the 1st half. But the pressure was there. Constantly challenging your opponent to defend in transition doesn't look like its has an effect. But it does. The Knicks' game quickly eroded to the pressure in the 3rd period. The Sixers started to score more points on the break and Knicks basketball was content with just jackin' up shots ... missing about 8 in a row at one stretch. it could have been another laugher had the Sixers shot better at the charity stripe
But true to the math that is Mike D'Antoni basketball .. jack-up enuff 3 point shot attempts per minute and you can be competitive ... even if you shoot below the NBA average. The Knicks made a couple of runs but the Sixers continued to plug away with confidence
The Knicks close to within 3 in the 4th ... the Sixers continue to plug away with confidence. They pull away again to win the game by 10, 107-97. It was not as pretty as recent games, but it was a great defensive effort. That may not be easily apparent but ... the Knicks are sixth in the league in scoring at 103 points a game. On offense ... Knick opponents give up 106 points a game. So we helped them keep up their average.:)
Yo dude ... the Sixers are a .500 ball club. Who's next?