So the new season has begun. But the Phillies championship casts a long shadow ... as it should. I have logged two games already. Jimmy Rollins was in the house Friday nite.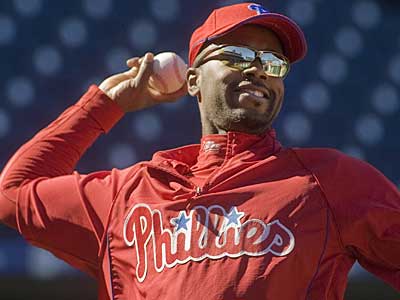 There may have been a bigger crowd outside Citizens Bank Park than in attendance at the Sixers season opener. Everyone seemed distracted. Including the Sixers who started out strong, but suddenly forgot how to shoot or play defense mid way thru the 1st period. The result was a lackluster lose to the Raptors (84-95).
After the game, we wondered over to Citizens Bank Park and joined the budding crowd outside the 3rd base gate listening to the call on the radio. It was pretty cool to watch the whole thing unfold.
Friday nite the sports complex area was still awash in the glow of the Phillies parade. Apparently the Sixers gave away $10 tickets to anyone with Phillies gear. I'm told that 2,000 people took them up on the offer. The official attendance was 11,717. My count was more like 7,000. But the Sixers managed to focus better notch their first win (116-87).
That's the good news. The bad news is that the Knicks are dreadful and not much of a yardstick. The Sixers offense looked better, but the Knicks don't defend. And the Knicks' shooting ... Jeeezze Us. Elton Brand was consistent with his jumper to help the Sixers pull away steadily. But I didn't see that signature up tempo style last nite. Mo Cheeks was constantly urging his team to pick it up. They showed flashes of it, but not what I'd expected.
Anyhow ... a win ... is a win. It will take a dozen or so games, before we really know what to expect. The Sixers are 1-1. Here's looking towards a fast start.