The 76ers beat Boston in Boston ... no I'm not kiddin' you. There is no longer any reason to doubt this team. There is no longer any reason to question 'Dre 'Dala's status as the man. He took over the 4th period of an NBA game against a team with the league's best record. There is no longer any reason not to watch what the Sixers are doing to the NBA.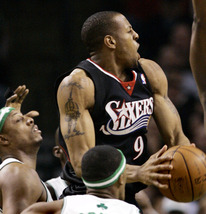 Some might have passed on the game last nite. After all they where in Boston ... the #1 team in the league ... the Sixers are 0-3 against them this year ... what the heck I'll catch it on sports center. WRONG! You have to watch what these guys are doing to truly comprehend just how fantastic they are playing. They were slugging it out with the C's the entire game. The bench forged ahead to take the lead in the 2nd period. But in the 4th the C's jumped out to an 11 point lead (69-80). Then Iggy turned it on and the Sixers scored 19 straight points to seize the win. Iguodala scored 10 points in a row to finish off that crucial run. With some serious steals and dunks. He answered Paul Pierce's trash talking with his game. The steal he deflected of the ref was sweet. The steal where he deflected it twice was sweet. The Sixers extended their defense and Sam I am played Garnet straight up. Thaddeus Young played huge minutes and continues to grow as a NBA player. Young and Williams were a +12  +/- deferential last nite. I can't say enough about how fantastic that game was.
RU watching this Philly fans? RU you ready for the NBA play offs? Yea ... I see ya breaking your ankles to jump on the bandwagon. Welcome to the show! 


Notes:
Boston has a stamina problem ... did you hear K.G. plays only 34 minutes. That means he takes a quarter off each game. The Sixers' intensity had him gassed. Coming into the season their bench play was a question mark. Doc Rivers seems to be tinkering with ways to give the vets a break during the game. Sam Cassell is not the answer. He's crafty, but just not fast enough for guards like Lou Williams. Fortunately for the C's they won't play back to back games like last nite in the play offs. But they are by no means a stone cold lock for the title. Yea I said it you stink'n Celtics fans. If they don't start tanking some games they might not make it out of the east.